What does a couple's adventure photographer do while visiting one of the most beautiful places on earth? Bring along a tripod and photograph her own Wanderlove Adventure session, of course!!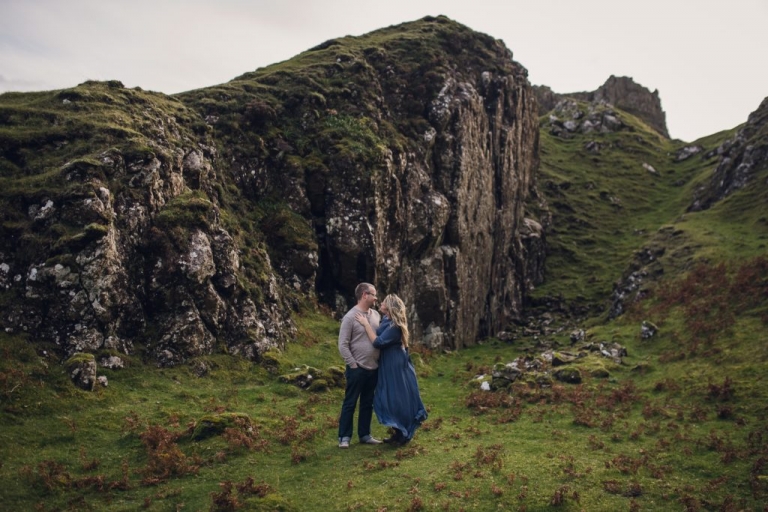 After two tough years of tons of financial uncertainty and the ups and downs of an unpredictable life on the road, Russell and I agreed it was high time we planned an international trip to celebrate our year of stability and prosperity we had. Our last overseas trip took us to stunning Iceland but that was over 2.5 years ago and the wide world has so many spots yet to experience. We set our sights on Scotland and Ireland and gave ourselves nearly two weeks so we could see as much as possible but still have some leisurely days and nights to explore our main destination: Scotland's famed Isle of Skye.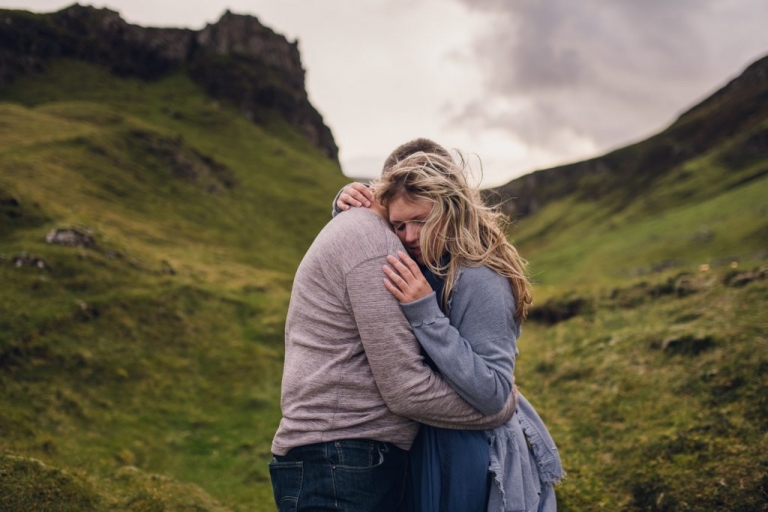 I'd been to Scotland several times over the years but had never made it to remote Skye and Russell had never been. A few years ago, some of our close friends chose Isle of Skye for their adventure elopement – complete with hiking boots and rainbows – and I'd been dying to see it for myself ever since. I knew I wanted to avoid summer and high tourist season and try to go as late in the year as I could and October has always been one of my favorite months to spending traveling. I booked us in The Cowshed Boutique Bunkhouse for 5 days (more on this place in a separate blog post because it is AMAZING) and literally made NO other plans for our time on the Isle of Skye. I wanted the freedom to play things by ear, work around the unpredictable weather and explore to our heart's content.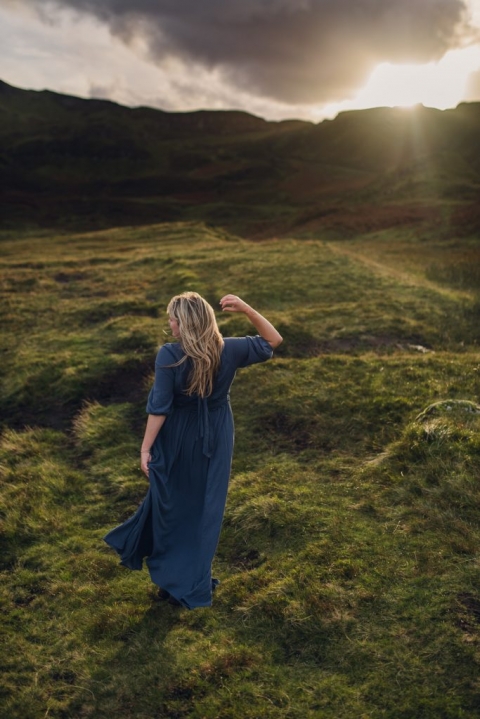 Our first two days were plagued with relentless, miserable rain. Not the kind of rain that makes everything a bit more magical. The kind with fierce, horizontal rain where you're actually confined in doors because you didn't pack a boat to get around in. I was a bit nervous as the days dragged on because even the locals mentioned this was the rainiest they remember it being this early in autumn. But, at last, we awoke to the glorious sun on the third day and rushed out to meet Skye!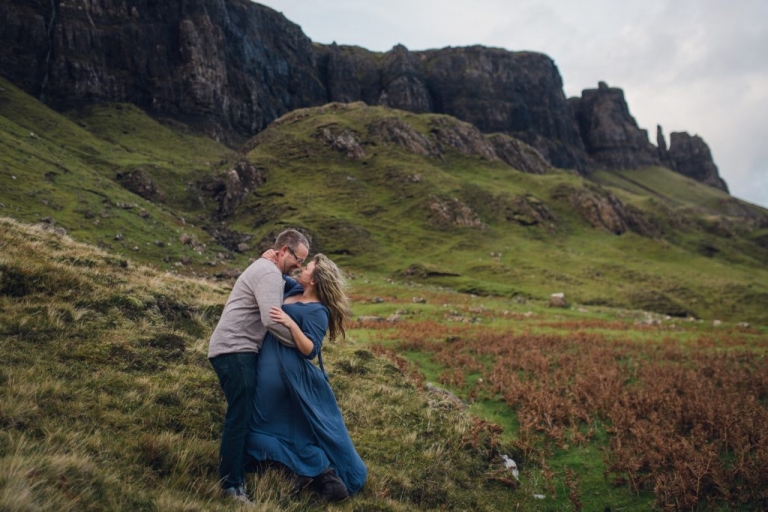 We drove around the Uig and Portree areas and wound up at the place that would become my favorite on the entirety of Skye: The Quiraing. Description of this magical region still defies me but I knew the moment I saw it that, if I was going to attempt some couple's photos of us, this would have to be the spot. I'd brought one of my Wanderlove Wardrobe dresses and my tripod along just in case the stars and weather aligned. That first day we wandered all over the rocky terrain and velvet grass leading to jarring mountains and even stumbled across a couple eloping just before sunset. It was all pretty epic!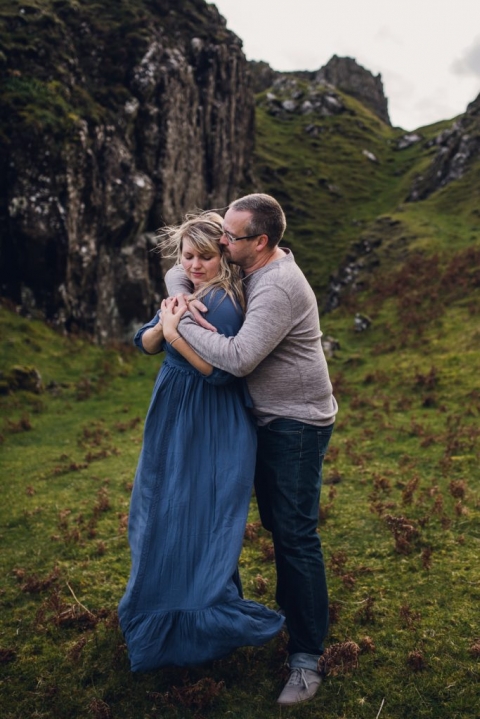 Two days later, on our last afternoon on the Isle of Skye, the sun and clouds were all vying for dominance in the sky and the cold wind was as fierce as we'd felt it that entire week. But we knew it would be it's own kind of perfect – the very appropriate final love letter to this mystical place of ragged, warring beauty.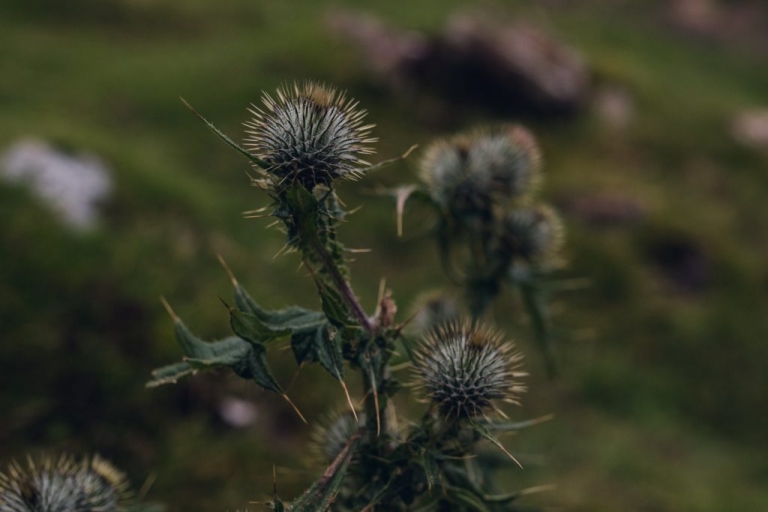 Just as we made it to our first spot, the sun lost it's battle and the sky clouded completely over. Undeterred, I set up the tripod and we began using the landscape to frame our giddy shenanigans. I hadn't realized until this moment that my new Nikon D850 wasn't compatible with my remote shutter release so I had to go old school and set the 10 second time for ever one of these shots. I would position Russell, configure all the sessions and hit the button before scrambling over the rocks and into place before the 10 seconds were up! That craziness coupled with the freezing, brutal wind made for a very short and sweet session but I was still thrilled with the results.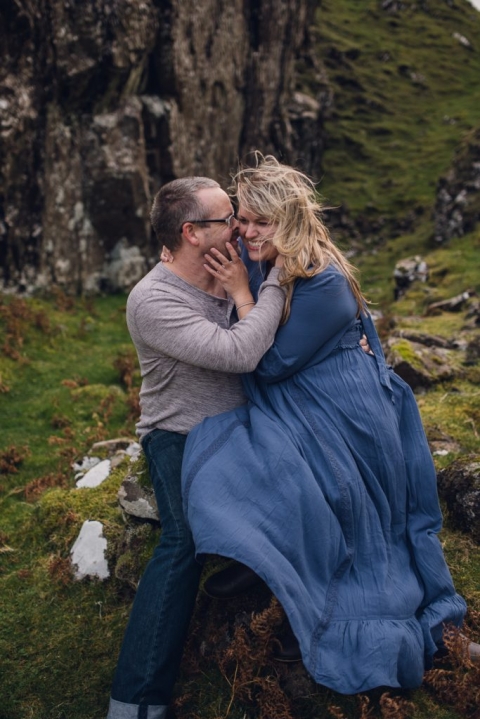 Only looking at these photos does it occur to me that the Isle of Skye is a wonderful analogy for a relationship:
There are setbacks and road blocks and you have to want to make it work. It will pour down rain one minute and the sun will shine the next. It is rough and rocky and you'll stumble many times. But what you experience is so incredibly worth all of the dedication and work it takes to face the blinding wind and continue to choose to place one foot in front of the other.
Isle of Skye completely stole my breath away and I cannot wait until I'm back on it's golden shores once more.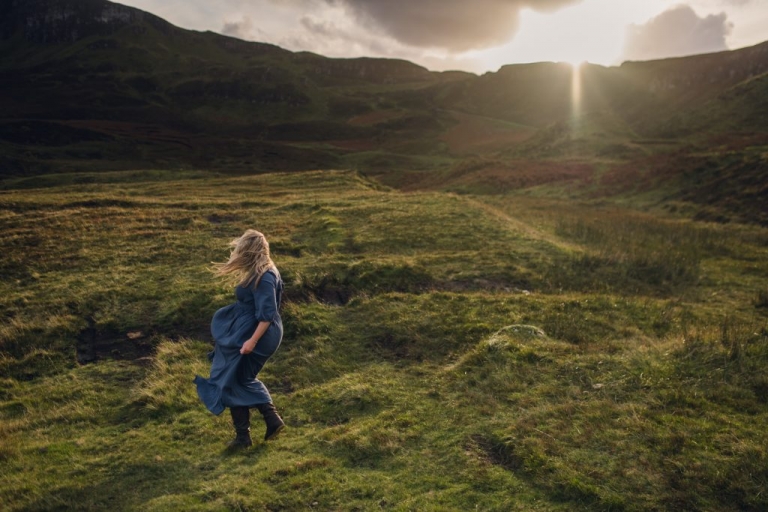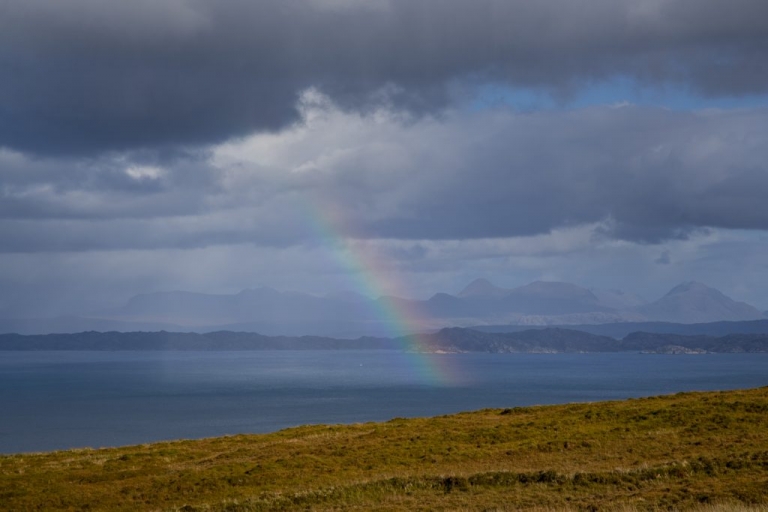 ○ ○ ○
Melody is a full-time nomad who calls an RV home while roaming all over the western US and beyond for couple's adventure photography in the wilds of nature. Her style is cinematic, romantic and richly colored and she believes that the beauty and chaos of nature, with its twisting paths, coarse landscapes and breath-taking wonder is a poignant analogy for relationships. The Pacific Northwest will always hold a special place in her heart but, life is short and the world is wide so check out the travel schedule to follow along with her adventures.
○ ○ ○