Susan + Ben's Wanderlove Story
Her Full Name: Susan 
Her Birthplace: Goochland, VA
His Full Name: Benjamin 
His Birthplace: Wright, WY
Where did you meet (city, state, country)? Our first date was in Casper, WY, but we consider Laramie, WY to be home-ish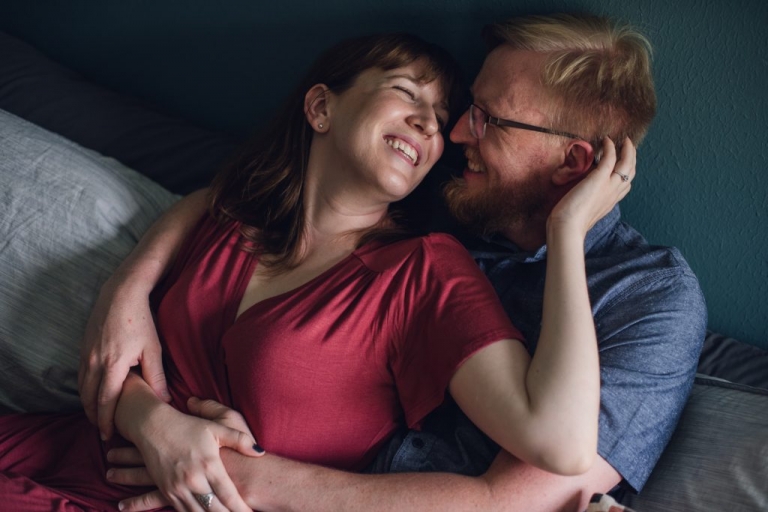 Describe the very first time you met: After talking for a while, he asked me to dinner.  We met up in Casper, WY when he was visiting his mom and I was in town for a meeting. We went for coffee and talked for a long time before heading to dinner.  We went to a steakhouse that served salad from a sand-bucket (the plastic kind with a handle and it comes with a tiny shovel).  I choose meatloaf and Ben still hasn't let me live it down.  I don't think he finds meatloaf to be a very sexy first date food, but he's wrong. 🙂  From there, we went to get fancy drinks at a bar attached to a liquor store. This all a very Wyoming style date.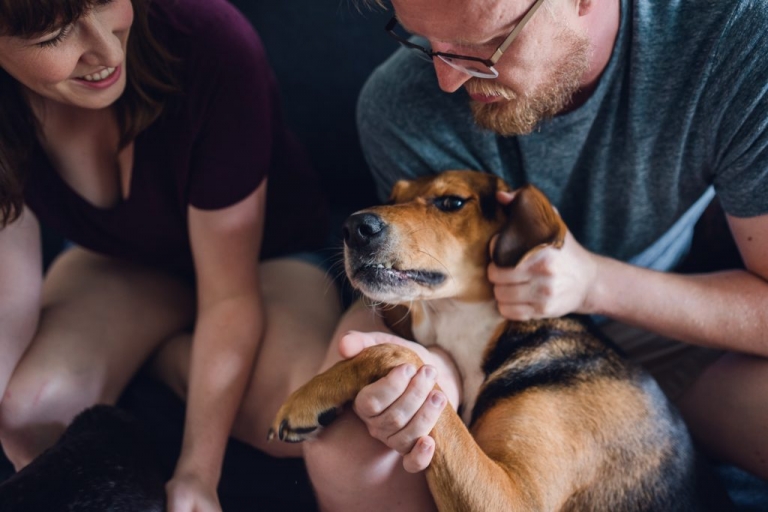 Can you identify specific decisions or life events that brought you together? 
Susan: I chose to move to Wyoming for grad school after being a beach bum for two years. Out of all the places I could have chosen, I moved to a random state that I'd never even visited before.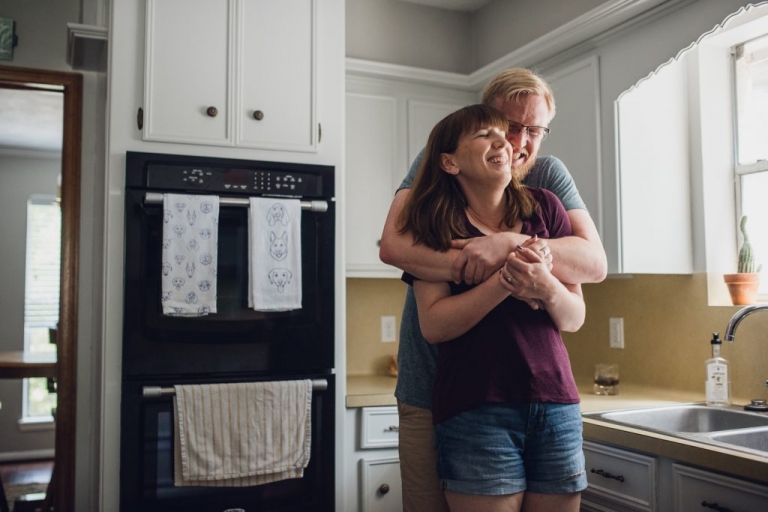 What were your first impressions of each other and what initially attracted you?
Ben: I thought Susan was intelligent and easy to talk to.
Susan: Ben was tall and his hair was so blonde it was almost white in the sun. He liked to spend outside, and I really wanted someone to do that with. Conversation flowed easily, so that was a nice change from a lot of my first dates. Also, our first kiss was pretty good.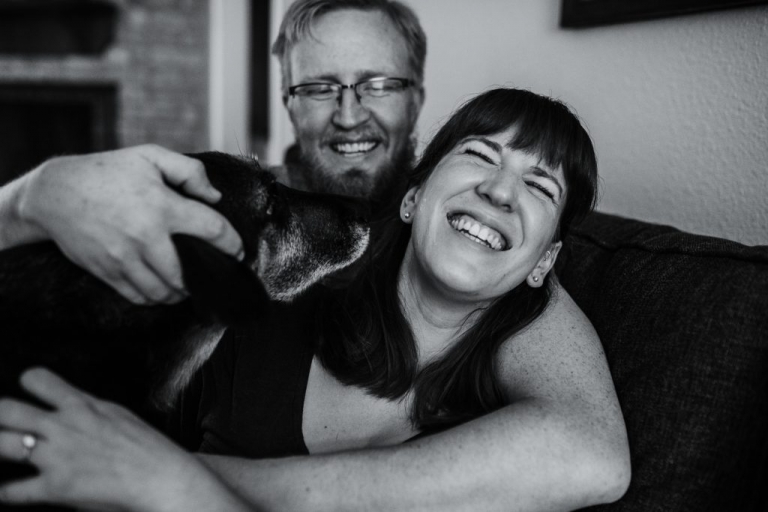 As you saw more of each other, what really made you fall in love? We can really pick on each other and have fun. Neither one of us is really lovey or sappy, so we get along well with that.  It did take a while to figure out each others limits, and we have hurt each others feelings with our joking.  It was a lot of growing together.
I think the first time that we really had a date that made me think it could be long-term, we went to a one-man-band in Fort Collins, CO, and that guy had a song called "I'll Settle For You" which we both loved!  We said that night that it was "our song" because it had such a tongue-in-cheek feel.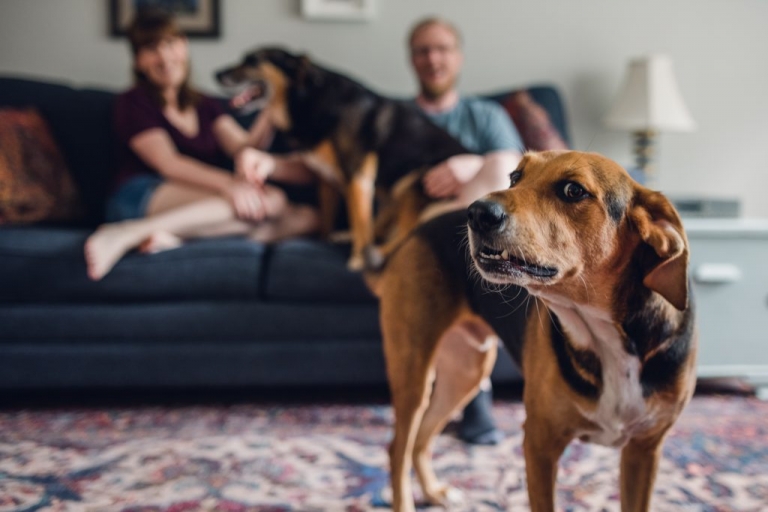 Did your love face any big challenges? Any differences you had to work through? HAHAHAHA! Yes. We graduated, moved to Texas, bought a house, renovated said house and, through it all, we're still learning how to not drive each other nuts.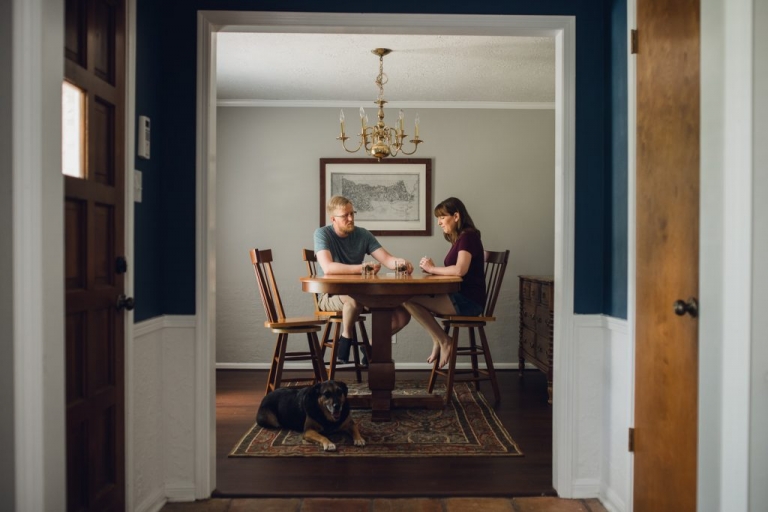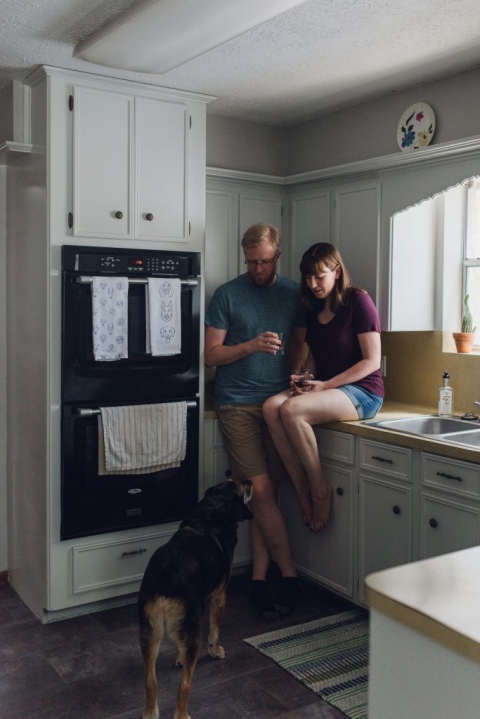 Where do you live now? Houston, Texas
What brought you from where you met to where you live now? Why does anyone move to Texas?  We were both offered jobs here after we graduated from University of Wyoming.  It felt like fate and it was the nail in the love coffin when we chose to move here together.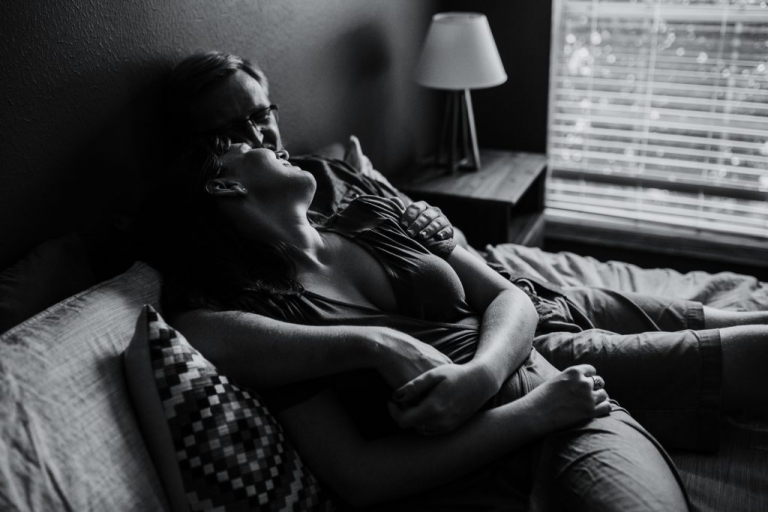 How do the places you have been together help define or shape your relationship? Ben once got us lost camping outside of Lander, WY.  I still followed him and only kind of second-guessed his ability to read a map. That's pretty much set the stage for the rest of our relationship.
We've travelled to Maine, Canada, England, made trips to see my family in Virginia, and have driven up to 18 hours in one day stuck in a car together with two dogs. We have plans to do more traveling since we know that we can do it well together.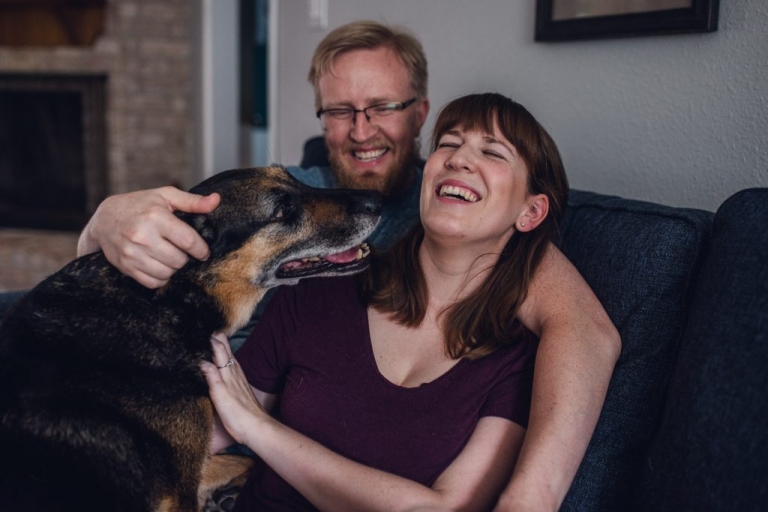 Are there any locations that are special to you as a couple (specific coffee shop, waterfall, city, etc?) Seabrook Waffle Company in Seabrook, TX is probably one of the most special.  We went there accidentally the first time, and have visited a few times since. He took me there before we took a long, hot walk to the shore and that's where he proposed.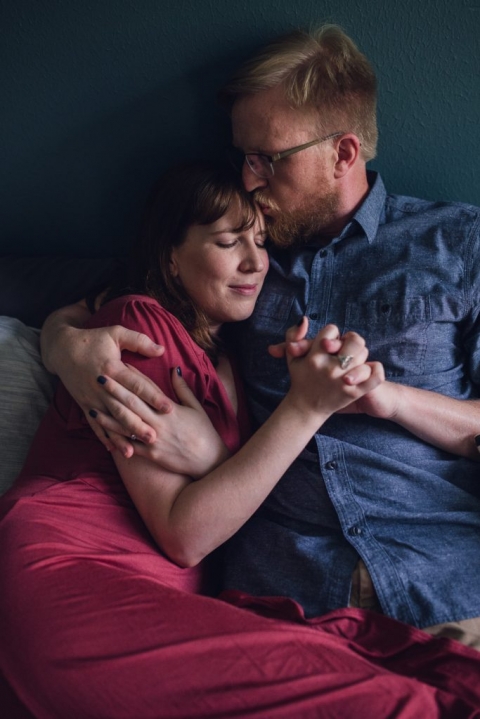 Do you see your location changing in the future? Why or why not? Yes, I hope so. TX is hot and has bugs and no mountains. We're here for a while though and trying to make it feel like home.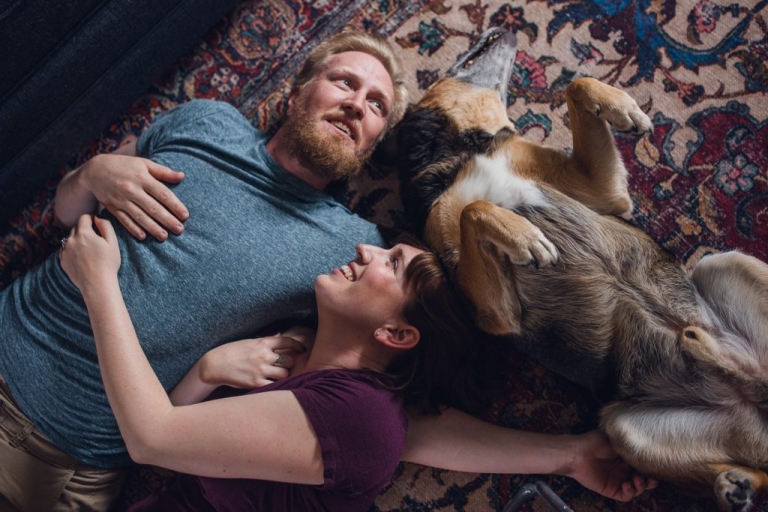 In your own words, describe your style as a couple: Sarcastic. Loving (although we hide it from the world).  We pick on each other a lot, but never in a mean manner. We used to be that outdoorsy couple, but that's gone away since we moved to TX and it's something we'd both like to get back.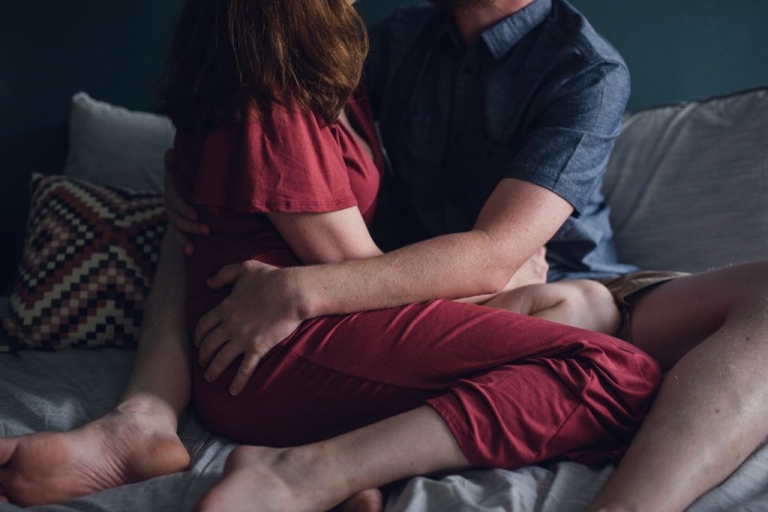 What interests or passions do you share? Traveling, eating well, gin, whiskey, scotch, love of animals, being outside when it's not hot, British TV, making our house a home.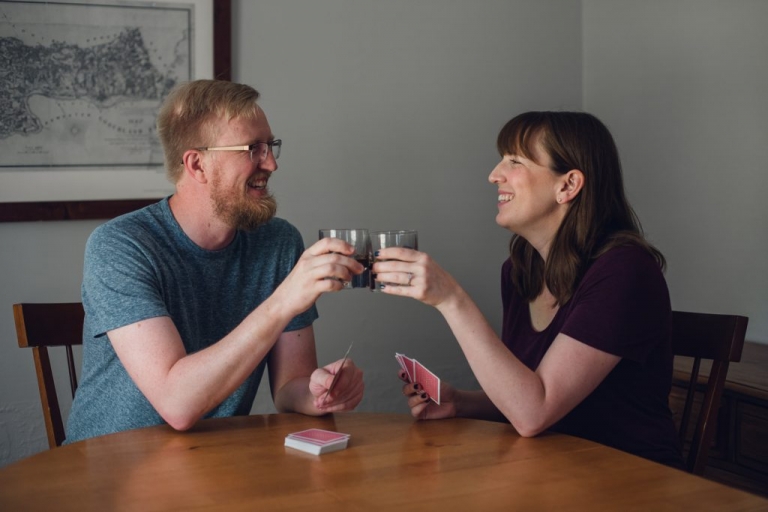 What are some things about your life right now that you want to remember down the road? I want to remember what it was like to re-do a house together.  Making a lot of decisions that we'd have to live with long-term and making those together.  Decisions that seem little can make a big impact, and I feel like that's what building a relationship is like, too.
If you could describe the last year in your life together using one word, what would it be? Why?
Moist…because everyone hates that word.
From our pets, we've woken up to wet dog noses. The cat plays in the water after we shower and then walks all over everything with her wet feet.
We got engaged next to the bay with a spray of water coming up as we stood on the rocks.
Three months after we bought the house, Hurricane Harvey hit and we had water in our first floor.  We've had to pull out soggy carpet, paint EVERYTHING, and clean it all. We sweat a lot to build our life together. There were moments of tears and there were times of kisses.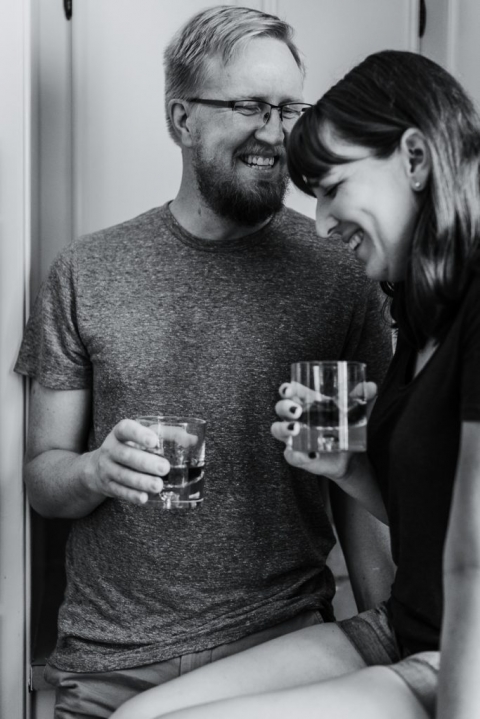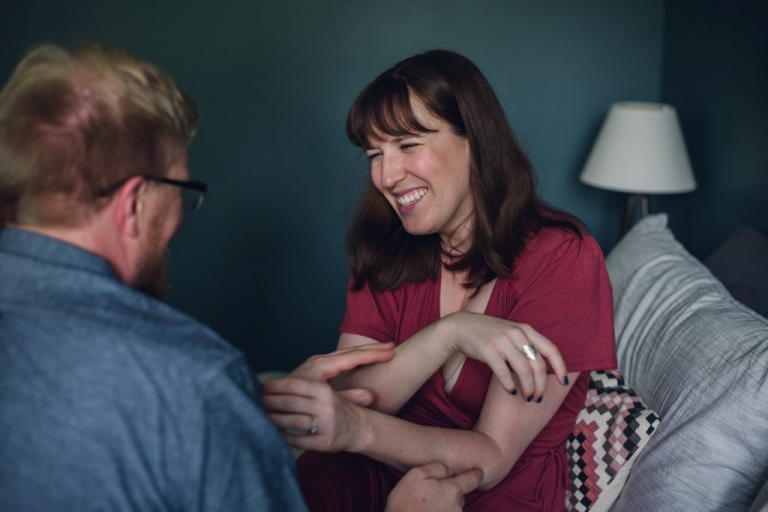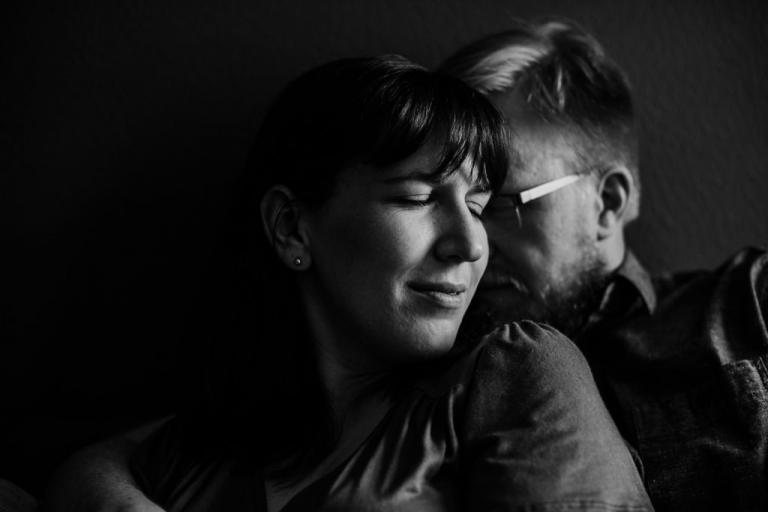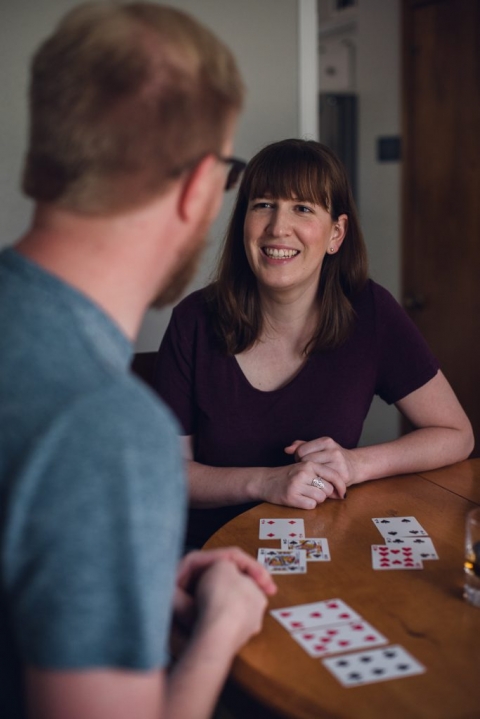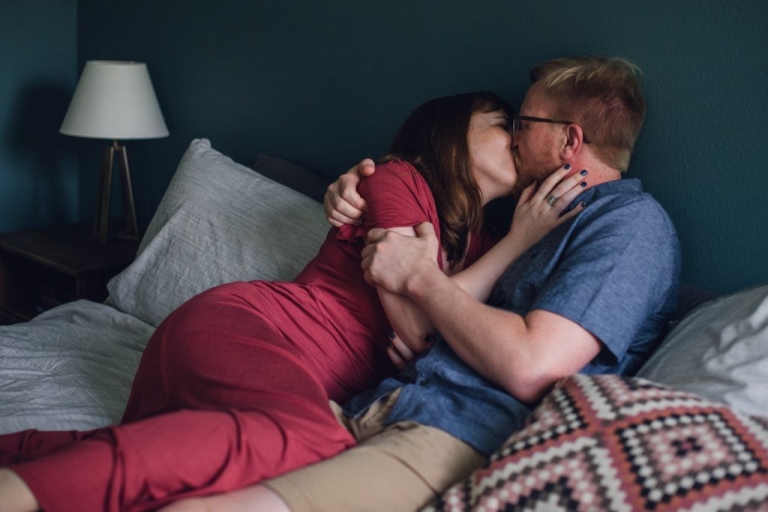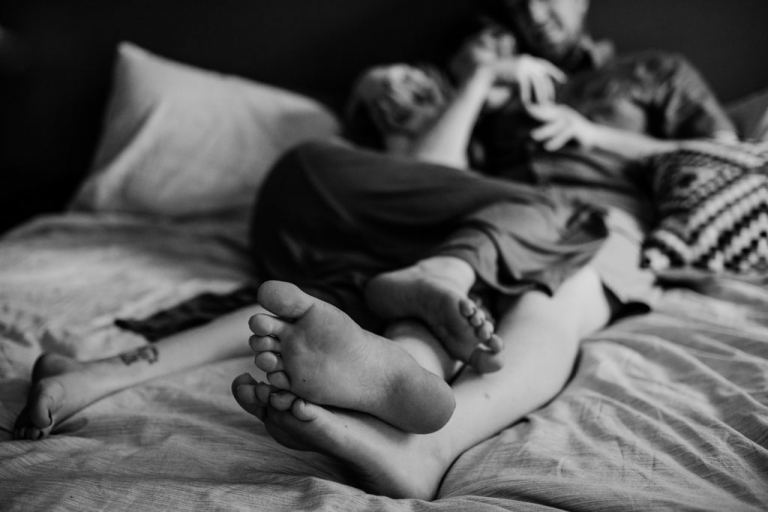 ○ ○ ○
Melody is a full-time nomad who calls an RV home while roaming all over the western US and beyond for couple's adventure photography in the wilds of nature. Her style is cinematic, romantic and richly colored and she believes that the beauty and chaos of nature, with its twisting paths, coarse landscapes and breath-taking wonder is a poignant analogy for relationships. The Pacific Northwest will always hold a special place in her heart but, life is short and the world is wide so check out the travel schedule to follow along with her adventures.