Her Full Name: Hannah Chetkowski
Her Birthplace: Worcester, Massachusetts
His Full Name: Jason Sibley-Liddle
His Birthplace: Nantucket, Massachusetts
Where did you meet? Boston, MA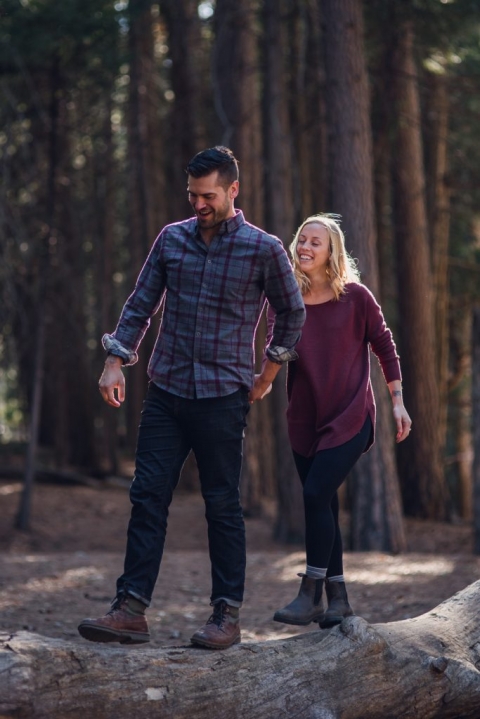 Describe the very first time you met: I was touring the gym he worked at. The lady giving me the tour asked me what my interests were and I said I loved running. She pointed to Jason and said "Jason is our running coach, we'll pair you with him for your introductory training session." My eyes lit up when I saw him and I knew I had to get to know him. Needless to say I bought training package after package just to spend time with him. Wednesday was my favorite day of the week for the 6 months I trained with him/casually hit on him.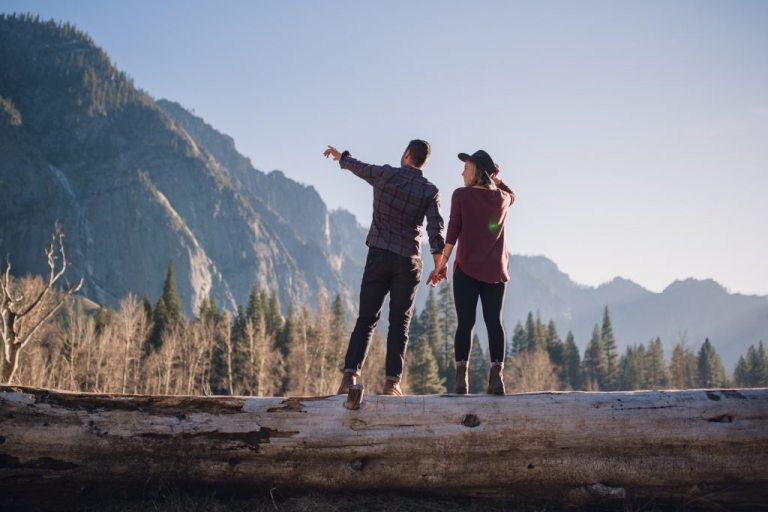 Can you identify specific decisions or life events that brought you together? I was struggling in my first job out of college, I hated the work, and I went in every day dreading walking through the door. I'd call my mom crying weekly about how I can't believe the rest of my life will be spent working a 9-5 (ha ha) in this god awful job. The job paid so poorly that I had to get a 2nd job bartending just to be able to buy groceries, I was working 7 days a week at that point. One of my regular customers at the bar started chatting with me one day when I was visually feeling down and suggested that I'd be good at event planning or hotel sales. The thought had never crossed my mind before that day, but I went home and started researching and applying. I landed a job at the Fairmont, which just so happened to be the building directly next to Jason's work. My new coworkers then recommended Healthworks as the gym I should go to and the rest is history.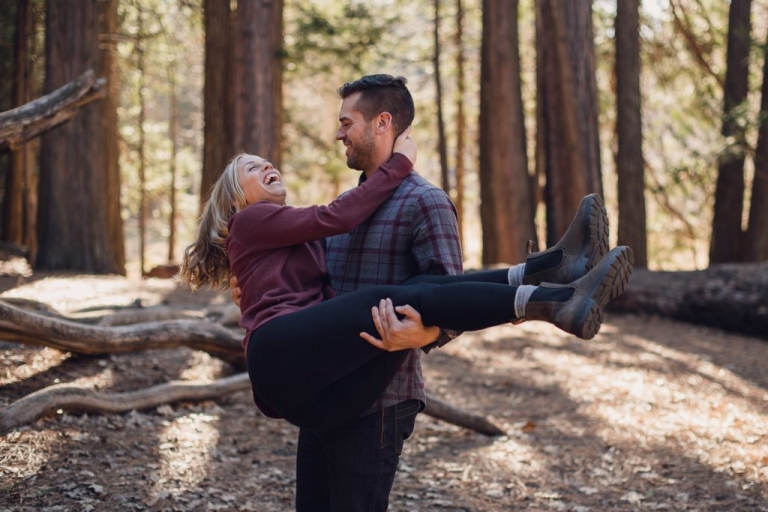 What were your first impressions of each other and what initially attracted you? Jason has this very kind demeanor, you can read it in his face even before you talk to him. I was drawn to that. He was so genuine when he spoke to you and when he asked you questions you could tell he was truly listening.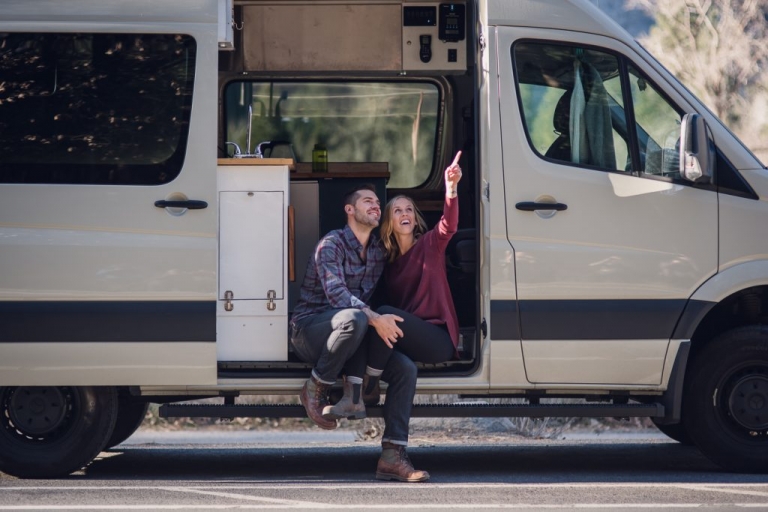 As you saw more of each other, what really made you fall in love? I fell in love with Jason's excitement for life, everything was a new experience and every moment mattered. I knew he was a special guy when he had me visit Nantucket, where he grew up his whole life, and he took the time to show me all his favorite childhood places on the island.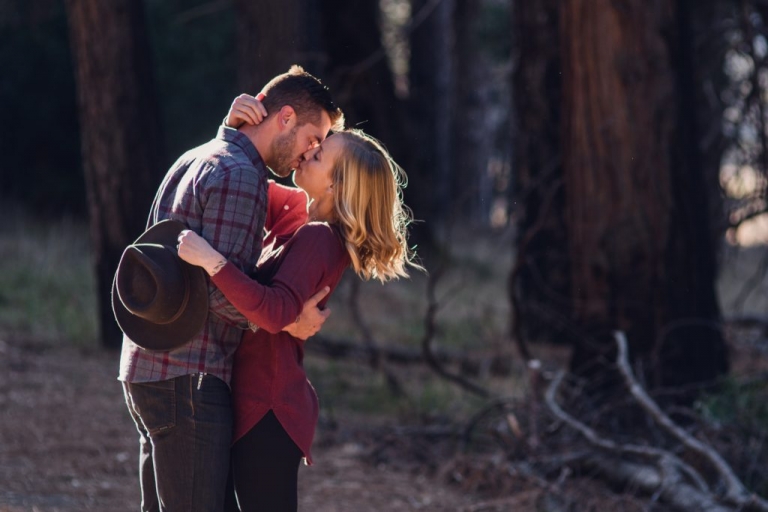 Did your love face any big challenges? Any differences you had to work through? We both had a lot of growing up to do and faced our own unique challenges. We are certainly not perfect, but I think what matters most is that we haven't given up trying and we've stuck together committing to this fully. We view ourselves as a team – total equals, rather than as a man and a woman – separate roles.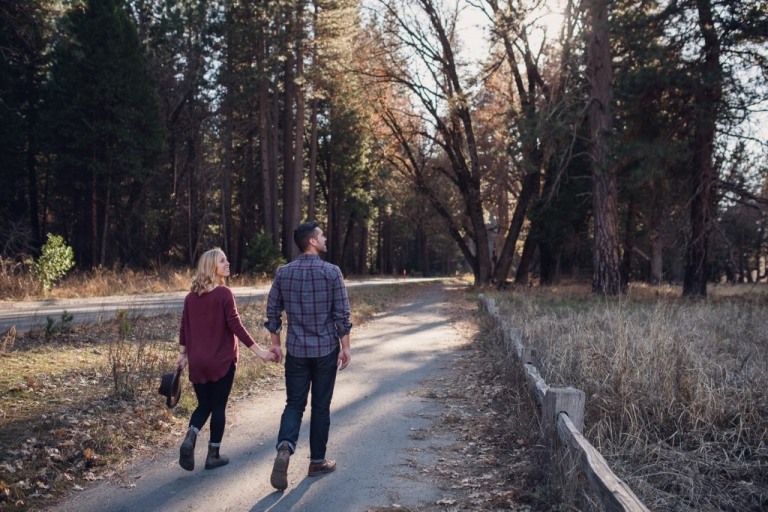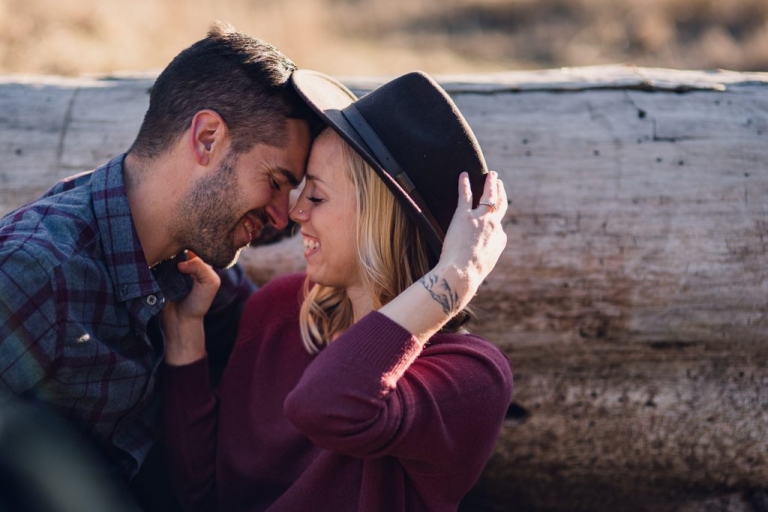 What moment did you know you wanted to spend your life with this person? When he told me he loved me while we were hiking Mt. Jefferson in New Hampshire. That was such a special moment and felt so different than any other one before.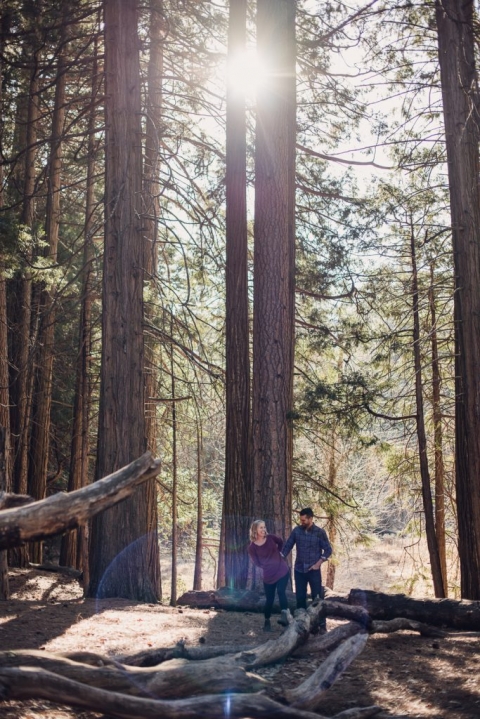 Are there any locations that are special to you as a couple? So many! Alabama Hills, the first place we fell in love with in California. North Dome, the place where Jason proposed. Pretty much the entire Trans America Trail, that was our defining moment as a couple.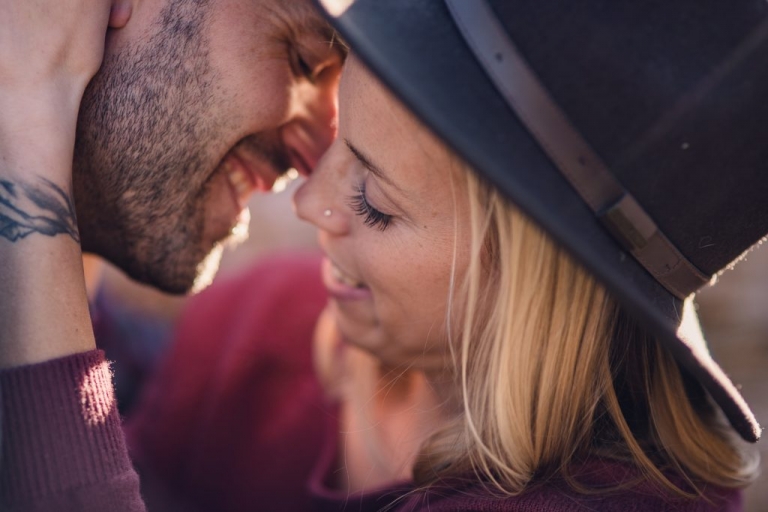 Do you see your location changing in the future? We know we'll eventually have to leave California, it's just too expensive. We talk about Colorado next, maybe living in a medium sized mountain town like Salida or Durango. We like the small town vibe with the hip vibes of a classic main street. We really appreciate culture and community as we get older and live in different places, it makes a place so much more special and memorable.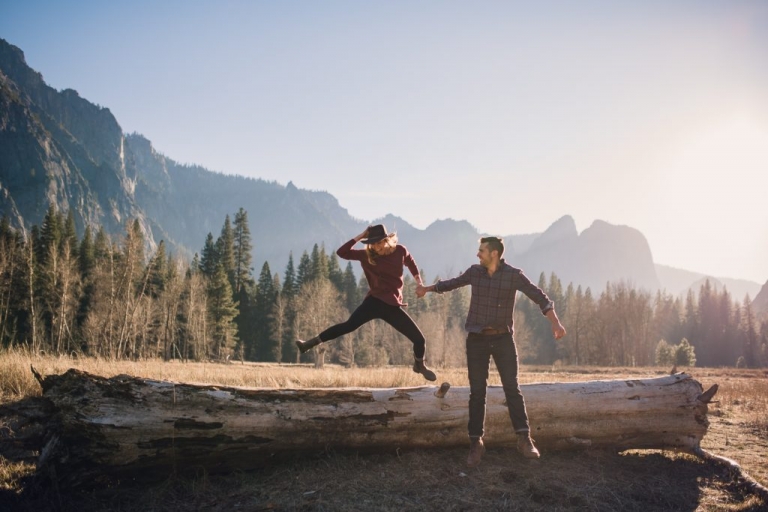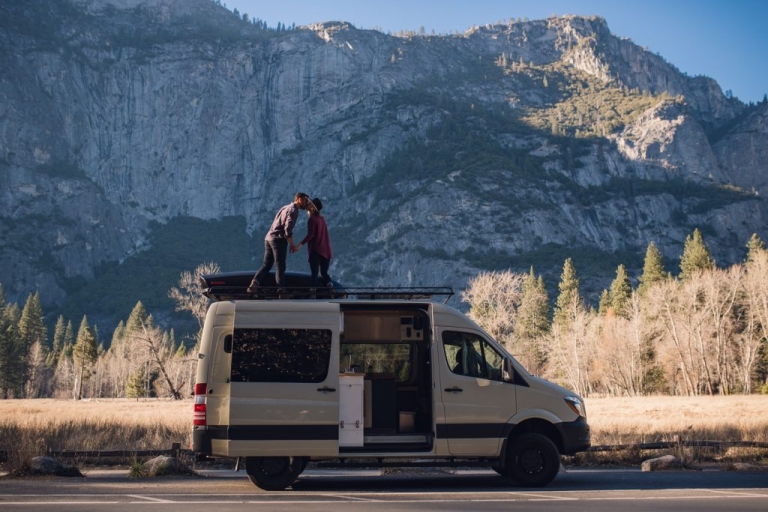 Who proposed and how? We planned an overnight trip to North Dome and I had a hunch he would pop the questions, so I tried soooo hard not to sweat on the hike so that I didn't look awful in pictures, I failed though. When we got to our campsite I kept expecting it to happen but then Jason fell asleep in the tent for 2 hours (we had woken up at 4am for this hike). Then when we finished making dinner he started acting weird and rifling through his backpack. He asked me "how spontaneous are you?" which he asks me before every big decision or leap of faith. He then kind of stumbled over (it was rocky) and got down on one knee with half dome and the sun setting in the background. It was magic! I blacked out, don't even remember what I said but from his reaction it was definitely some form of a yes.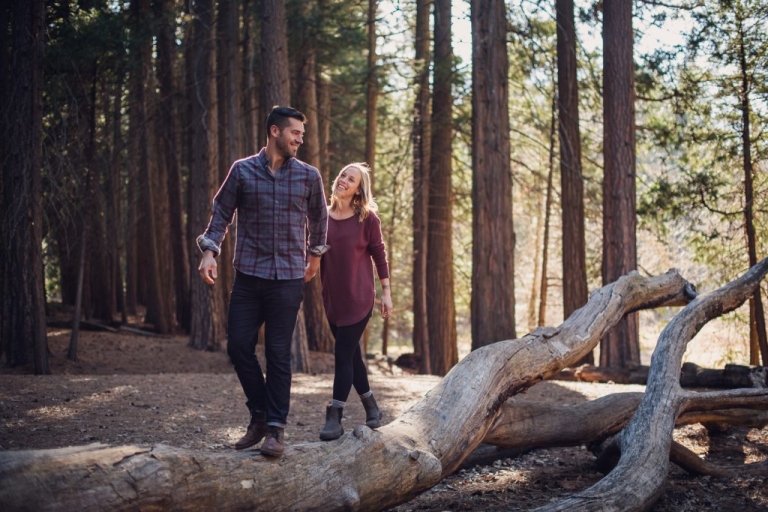 In your own words, describe your style as a couple: We're laid back, modern adventurers. We are totally cool with camping for 4 nights without a shower, but also appreciate getting dressed up and going out on the town. We're very big on experiences over things and try to keep our lives minimalistic.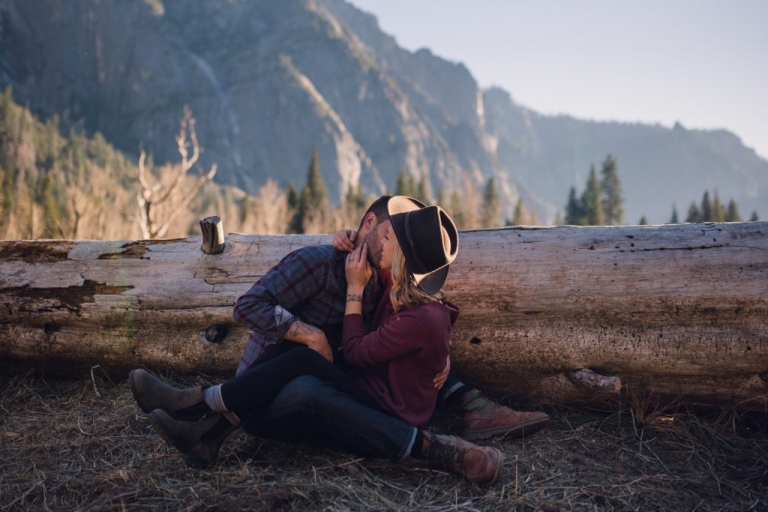 What interests or passions do you share? We love overlanding and backpacking, it's kind of our thing. When we decided to move out here we chose to quit our jobs and take a month to travel the country. We took the Trans-America trail out here which is a series of connecting dirt roads that goes across the whole country. We're also doing an overlanding trip for our honeymoon, going through the midwest stopping in Zion, Page, Monument Valley, Moab, the San Juans and potentially the Tetons. I'm the navigator – I find all the cool spots and delicious food. He is the driver, he can drive our old Rover over anything, he's a very skilled off road driver.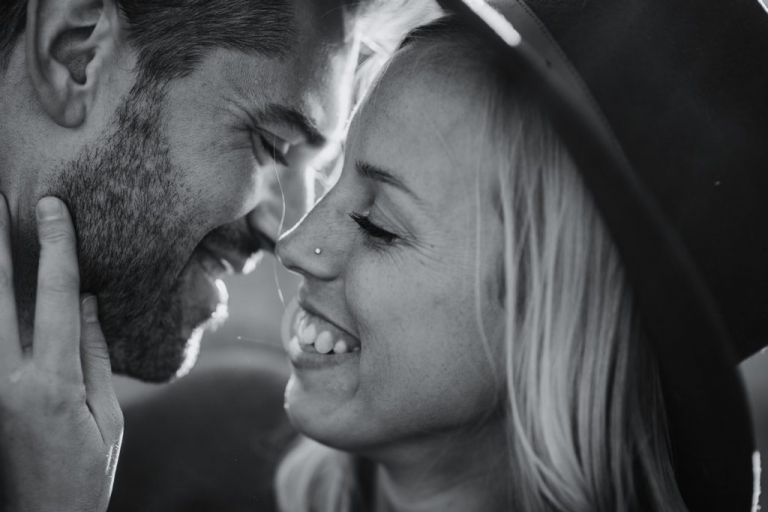 Anything else I should know about you two? We're getting married on October 6th!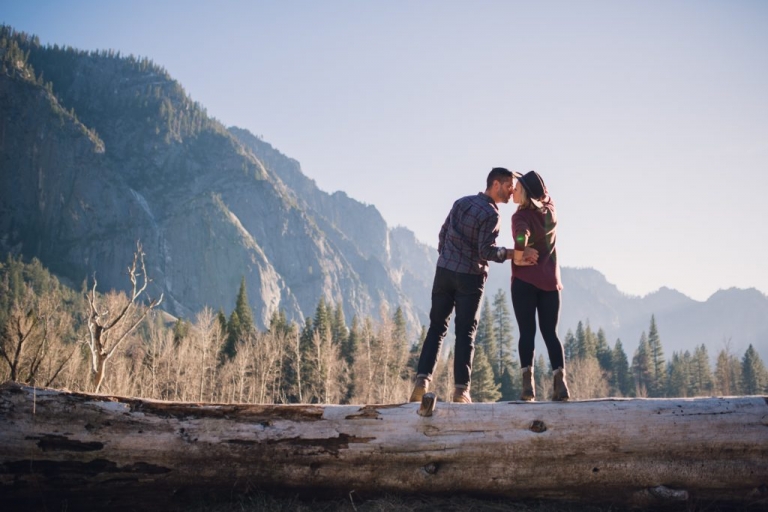 ○ ○ ○
Melody is a full-time nomad who calls an RV home while roaming all over the western US and beyond for couple's adventure photography in the wilds of nature. Her style is cinematic, romantic and richly colored and she believes that the beauty and chaos of nature, with its twisting paths, coarse landscapes and breath-taking wonder is a poignant analogy for relationships. The Pacific Northwest will always hold a special place in her heart but, life is short and the world is wide so check out the travel schedule to follow along with her adventures.
○ ○ ○