Are you an adventurous couple planning to elope? Maybe you're totally new to the idea of Elopement and you want more info to see if it's the right choice for your love story. If any of those options sound like you: good news! You're in the right place. Adventure elopements are on the rise but there are quite a few misnomers still attached to them. I want to bust through all the mystery and lay out once and for all what an amazing choice it can be to skip the traditional wedding and go for an adventure elopement.
An adventure elopement is loosely defined as a marriage that takes place outdoors in a place where the couple does not live. It can either be shared privately between the two people getting married or be witnessed by their very closest circle of friends and family. I've defined this as up to 25 guests (anything from 25 – 50 guests is called an 'Intimate Wedding' but they can also take place in nature and encompass all of the below ideas!)
Aside from the official definition, if I had to describe adventure elopements using only one word, it would be FREEDOM. Freedom of choice and freedom from tradition. An elopement can be absolutely anything you make it and can perfectly reflect your personalities and values. There is an unmistakable air of romance and excitement when the couple chooses a spot that is special to them or a new place they want to explore together on the first day of their marriage – oftentimes in a beautiful location with stunning views. Sometimes there is hiking involved to get to the spot, other times it's a long drive down a winding road where the only other souls you see are wildlife. No matter the specifics, the overarching theme is focused on that sacred togetherness of two souls promising each other the most paramount thing they have to give: the rest of their time on earth.
Now that I've touched on what adventure elopements are, here are some common questions I've received regarding the details: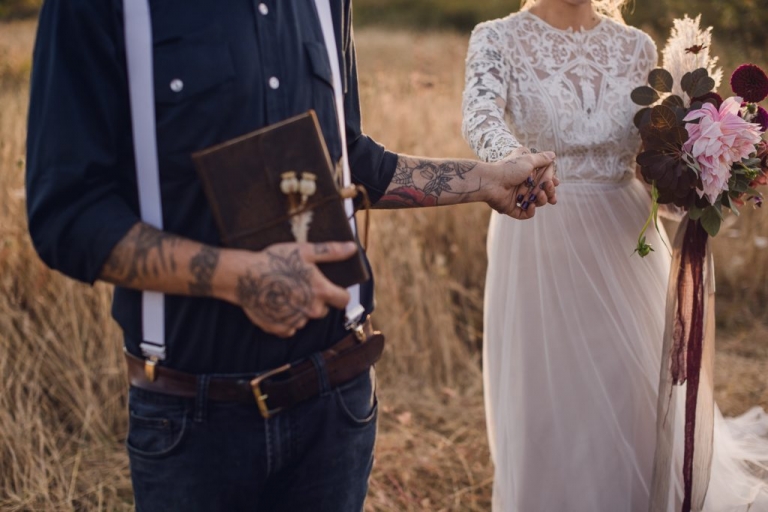 Does eloping mean I can't have my inner circle with me? Eloping absolutely doesn't mean it has to be just the two of you. Tons of couples choose to have a handful of their closet friends an family witness their vows. The beautiful thing about elopements is that there aren't any rules. You can design whatever type of celebration you can imagine. Honestly, the only limit is your imagination. Hot air balloons, suspension bridge over a canyon, middle of a river, mountaintop…you name it. You can get married in a place you love doing a thing you love with the people you love
Can my dog participate? In my world, dogs are closer than family. By all means, bring the dog and let me love on them! Just be sure to check the restrictions of the location of your choosing because, unfortunately, not all areas are dog friendly especially in national parks due to delicate ecosystems and other wildlife.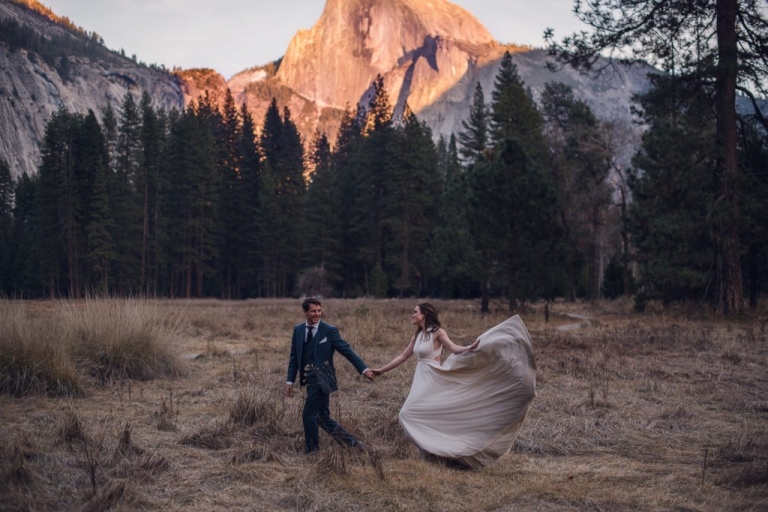 What are my location options? Hopefully at this point you're beginning to realize that the sky is the limit. It's not uncommon for couples to book helicopter rides to remote mountain locations to exchange their vows so, even the sky is a soft limit. If you're hoping for some epic backdrops but aren't sure where to start, you can head over to my Wanderlust page and check out some of the rad areas of this amazing country and choose a destination with a character that speaks to you.
Do you have any location suggestions you provide? I have been eating, sleeping and breathing travel since the day I could walk. This means I have amassed a huge database of special spots and areas that I am ready and willing to share with you and help you plan for. Choosing me as your elopement photographer gives you an all-access pass to my locations based on years of travel and exploration so I have no doubt we can find a perfect spot for your ceremony!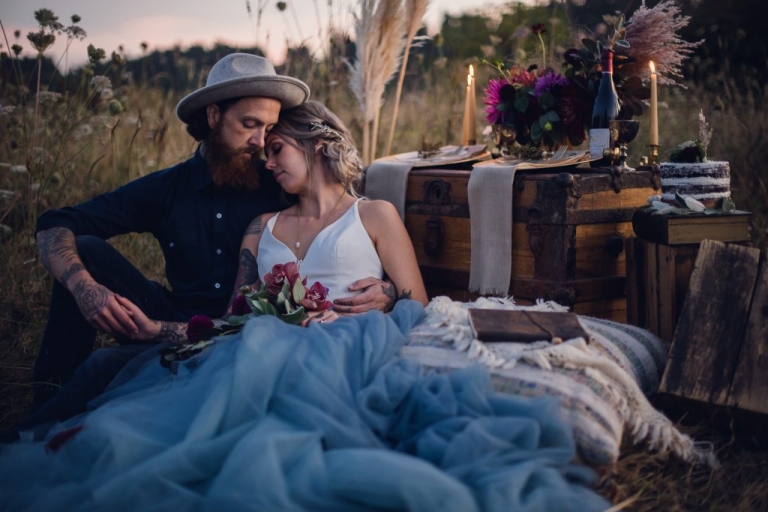 Can there still be dancing and toasting champagne? If you're starting to catch my drift, you know the answer to this. Absolutely! Hire musicians and bring them up the mountain. Bring all the champagne (or whisky or moonshine) you can carry. This day is all about celebrating your uniqueness.
Some people elope to save costs. Is that what it's all about? Why do people choose to elope? There are tons of reasons couples might decide elopement is the right fit for their love story. While many forms of elopement might save money, that's not always the main reason. Couples who choose adventure elopements to celebrate their marriage often times feel more at home in the outdoors. Some families simply aren't very close and going through all of the traditional rituals of a big wedding would cause discomfort. Most couples who elope are choosing to bring the wedding ceremony back to a place where it focuses on the binding of two lives without playing hostess at a large party that everyone has opinions on how it should come unfold.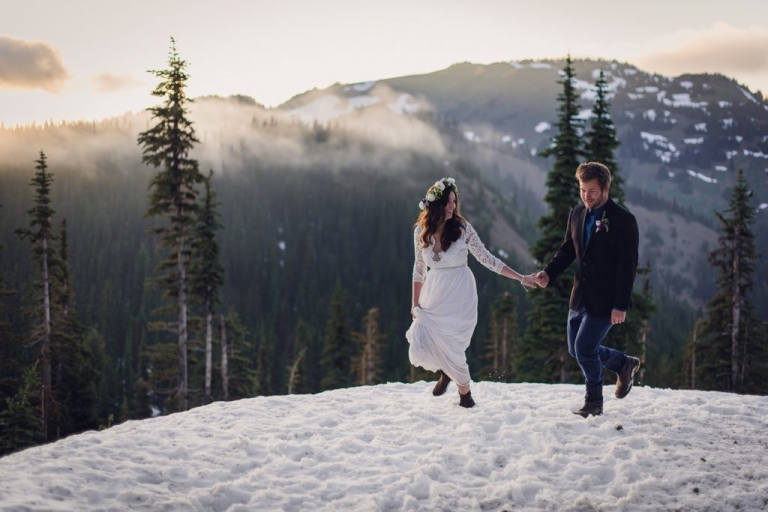 What time of day should we schedule the elopement ceremony? Hands down, the most gorgeous outdoor lighting happens in the 2 hours around sunrise and sunset. Most of my packages allow you to split time between sunrise and sunset so we can maximize on the very best lighting for all of your photography. One great way to break this down is a sunrise first look and a ceremony closer to sunset. I am super involved in designing an elopement day timeline for you since the lighting always depends on the location. It is my job to assess the location and be ready to create the most flattering images to maximize the landscape and light.
Why does elopement photography cost the same as traditional wedding photography? This is an excellent question with a pretty big answer. A majority of the time, elopement photographers are the only witnesses to the marriage. Many times, your photos are the only way your extended friends and family will have to share in your wedding. Additionally, your photographer is often much more involved with the planning process since there are a lot of factors to consider when shooting outdoors in beautiful places including permits, weather, tides, hiking, safety, logistics etc. Not to mention the same amount of time spent after the elopement curating and perfecting your images as they would with a traditional wedding.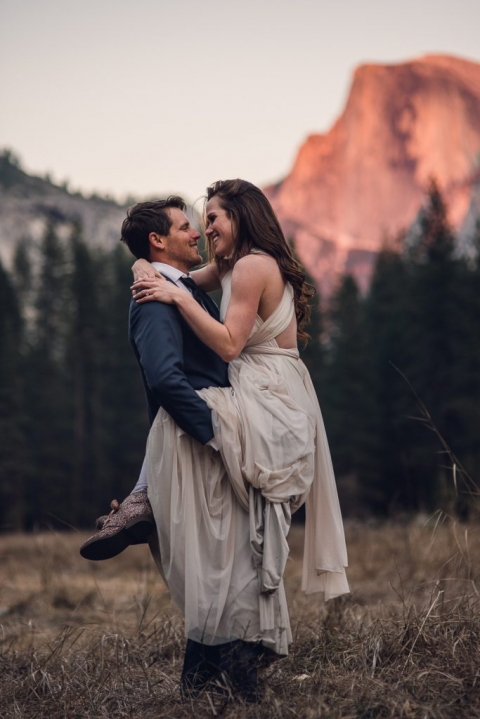 How do travel costs work? If you choose to elope at a time and place that is already listed on my travel calendar, there are no travel fees within 150 miles. Since I live on the road full-time and I love exploring, if you book 6 to 9 months in advance, I will make every effort to work your location and dates into my travel calendar to avoid travel fees. Otherwise, domestic travel is a flat rate for me to fly wherever, whenever.
If you have any questions about eloping that I didn't cover, please feel free to reach out! I am a HUGE supporter of the adventure elopement movement to reclaim weddings from the dimly lit ballrooms of America and cut out all of the distractions and fluff that big weddings have become. I personally can't image my own wedding any other way than out in nature focusing on the the marriage over the color scheme.

○ ○ ○
Melody is a full-time nomad who calls an RV home while roaming all over the western US and beyond for couple's adventure photography in the wilds of nature. Her style is cinematic, romantic and richly colored and she believes that the beauty and chaos of nature, with its twisting paths, coarse landscapes and breath-taking wonder is a poignant analogy for relationships. The Pacific Northwest will always hold a special place in her heart but, life is short and the world is wide so check out the travel schedule to follow along with her adventures.
○ ○ ○